Today's blog post is by Becky Lower, author of The Reluctant Debutante. Take it away Becky…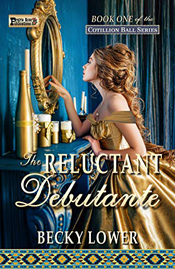 My thoughts one week after RWA national conference
Those of you who were fortunate enough to attend Nationals know what an electrifying experience it is. From having Julia Quinn reveal her secrets about writing dialogue to watching the great interplay between Jayne Anne Krentz and Susan Elizabeth Phillips to gaining knowledge from Michael Hauge, it was a jam-packed three days and my head is still spinning. I met lots of people including fellow Crimson authors and members of the host chapter, who made everyone feel at ease.
One of the most helpful workshops I attended was on How To Write A Series. Since I'm in the middle of a nine-book series about the various Fitzpatrick children, this was a topic of great interest to me. The information I gained is useful and should be applied even if you think your book is a stand-alone, since you never know what might happen once the book is out. Secondary characters, if properly crafted, can entice the reader into demanding those characters get their time in the spotlight through his or her own book. One of the reviewers of my debut novel, The Reluctant Debutante, emailed me to say she hoped I would write a book about Basil, who plays a secondary role, since he needed an Annie Oakley type to straighten out his uptight ass! I was already well into the book where Basil meets his match, but her comment made me giggle. I'd done my job with Basil if he elicited that type of response.
Here are the rules to writing a series:
1) Create a Bible to keep track of everyone who appears in the book.
2) Take great notes on character description, not only hair and eye coloring, but manners of speech, height, nervous habits, etc. The more you can put into your notes, the less likely you'll be to have to go back through the first book to make sure your eye coloring is consistent.
3) Think strategically. Your secondary characters might do something in the first book that needs to be rectified in subsequent books. Make certain you're not painting yourself into a corner with your characters' actions. In my second book, The Abolitionist's Secret, which is being released by Crimson Romance in December, one of the twins (Jasmine) does something very foolish, which results in the other twin (Heather) being placed in a potentially hazardous situation. This impetuous act on Jasmine's part made my early readers want to smack her. Now, my job is to make her likable in the fourth book, which is slated to be Jasmine's story.
4) Put your characters in tense situations.
5) Make the reader want to be invested in the characters.
6) Advocate with the publisher for great covers and tag lines.
7) Write quickly in order to keep your readers fed and happy. Most series publish two to three books a year.
There you have it. Simple as pie. But I never did learn how to make good pie crust, and even with having my world set up by the first and second books, every book in this series will provide me with many challenges.
Becky Lower's debut novel, The Reluctant Debutante, is available now from Crimson Romance. The second book in the series, The Abolitionist's Secret, will be available in December, 2012.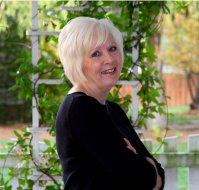 The Reluctant Debutante can be found: